The first Ocean Talks took place on World Ocean's Day 2015
Clean Coasts was delighted to hold the world's first Ocean Talks event to celebrate World Oceans Day 2015. The speakers were invited to speak about the link between their work and our blue planet. The event was streamed live online so that people from all over the world can connect to the event just as our oceans connect us all.
Videos of the talks are available in our video gallery!
2015 Speaker Profiles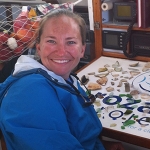 Allison works primarily to engage the public in the issue of ocean trash, through coastal cleanups and promoting prevention strategies. Allison also spearheads the development of comprehensive and effective educational content to supplement the International Coastal Cleanup and Trash Free Seas Program. Prior to working at Ocean Conservancy, Allison worked five years at an aquarium managing marine education and conservation programming. Allison received a Bachelor of Arts with honors in Psychology from Rollins College and a Master's Degree in Environmental Planning from the University of Florida. Although currently in Washington, DC, Allison is at home on the water, returning to Florida or any coastline as often as possible.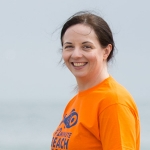 Annabel FitzGerald is the National Manager of the Blue Flag and Clean Coasts in Ireland. She has overseen the development of the Clean Coasts programme and its suite of initiatives since 2009. These initiatives include Love Your Coast Photography Competition, Clean Coasts Week, The Big Beach Clean, #2MinuteBeachClean and the Clean Coasts Road Show. Annabel is also the founder of Ocean Talks.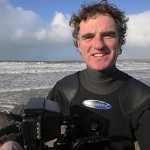 Ken O'Sullivan is a documentary filmmaker from Lahinch in Co. Clare specialising in ocean wildlife. Ken has produced undersea wildlife series for RTÉ and TG4, both being the first of their kind in Ireland while also working as a freelance wildlife cameraman for BBC Natural History Unit, CBC Canada and other international broadcasters.
Easkey Britton is an internationally renowned professional big-wave surfer, artist, scientist and explorer from Donegal, with a PhD in Marine Environment and Society. Her parents taught her to surf when she was four years old and her life has revolved around the ocean ever since. Global Billabong XXL big wave nominee, former 5 times Irish National Champion and the first women to surf in Iran, Easkey is co-founder of the non-profit Waves of Freedom which uses the power of surfing as a creative medium for social change and has spear-headed the world's first global Surf + Social Good Summit which took place in Bali.
Richard is a Chartered Engineer who works as a policy adviser (water) for the Irish Government in the Department of Environment, Community and Local Government. He works in the Department's Marine Unit and amongst other things is tasked with implementing the Marine Strategy Framework Directive across the Irish marine area. This is an EU Directive that aims to achieve Good Environmental Status for European Seas through the setting of environmental targets and measures around human activity that ensure the sustainable use of the marine ecosystem. Richard is inspired by the complexity of the marine ecosystem and human interactions with it and by the multiple perspectives from others that he has encountered in his work.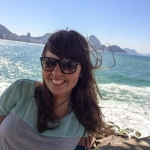 Heidi Acampora is a PhD researcher at GMIT Marine and Freshwater Research Centre. Her research focuses on policy compliant monitoring for marine litter. She has been involved in marine litter research and its impacts on biota in countries such as Australia and Brazil, where she co-founded the Brazilian Marine Litter Association. In Ireland, she is responsible for the Republic of Ireland Beached Bird Survey.
Emeritus Professor John Sweeney joined the Geography Department NUI Maynooth in 1978. A graduate of University of Glasgow John has taught courses primarily related to climatology. He has also taught and researched at a number of universities in North America and Africa. Over the past 30 years he has published approximately 100 scientific papers/chapters/texts on various aspects of climatology and climate change in Ireland. He has served a number of national academic societies as President, Secretary, Editor and Treasurer as well as being the Irish representative on a number of European academic bodies. Professor Sweeney also contributed to the 4th Assessment Report of the Intergovernmental Panel on Climate Change, which was awarded the Nobel Peace Prize in 2007. Most recently he was President of An Taisce, the National Trust of Ireland.
Spencer and Alice work in Lush. Lush is a cosmetics retailer headquartered in Poole, Dorset United Kingdom. Founded in 1994, Lush is dedicated towards producing fresh handmade cosmetics. There are over 800 stores in 51 countries. Lush produces and sells a variety of handmade products, including soaps, shower gels, shampoos and hair conditioners, bath bombs, bubble bars, face masks, and hand and body lotions for various skin types. As well as this Lush partakes in campaigns on animal, humanity and environmental matters. Lush's Mermaid tears is one such campaign that has a positive impact on our oceans health.