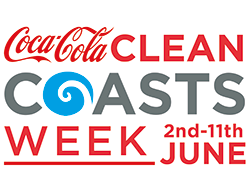 Volunteers all around the coast celebrated Ireland's spectacular coastline by getting involved in Coca-Cola Clean Coasts Week 2017. The week ran from June 2nd – 11th and there were many ways for you to get involved.
We have all seen the evidence of marine litter along our coastline so for all you beach lovers out there it was an opportunity to do something positive to combat the problem and also raise awareness about the issue. People could create their own beach clean event or participate in one. Every piece of litter removed from the coast is a piece of litter that won't pollute our oceans or harm wildlife. People could join us in celebration by attending some of the free coastal celebration events that took place around the country as well.
2017 Clean-ups
All clean-ups registered for Coca-Cola Clean Coasts Week appear on the map below. There were 135 in 2017.