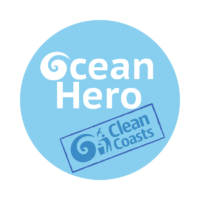 Nominate Your Ocean Hero!
The call for Clean Coasts' Ocean Hero Awards nominations is now open! Clean Coasts are asking the public to nominate volunteers who they believe have made an outstanding contribution to Ireland's coastal environment.
The Clean Coasts programme can count on the work of over 900 volunteer groups nationwide. These inspirational groups work collectively to create a cleaner and more sustainably managed coastline. Ocean Hero has been recognising the efforts of these volunteers for over a decade now and Clean Coasts is looking forward to receive and review nominations for 2019.
What are the Ocean Hero Awards?
The Clean Coasts' Ocean Hero Awards are about honouring the invaluable contribution Clean Coasts volunteers, groups and communities have made towards conserving our spectacular coastline. The awards, originally called the 'Clean Coasts' Merit Awards', were conceived in 2006, consisting then of only one category, 'The Clean Coasts' Group of the Year'. Since then the Clean Coasts' programme has grown to engage over 900 Clean Coasts groups, becoming embedded in many coastal communities nationwide.
Ocean Hero Awards 2019 – Categories
Clean Coasts Group of Year
Clean Coasts Volunteer of the Year
Clean Coasts Youth of the Year
Clean Coasts Beach Clean of the Year
Clean Coasts Fishing Community of the Year (supported by Bord Iscaigh na Mhara)
Clean Coasts Business of the Year
Think Before You Flush Community of the Year (supported by Irish Water)
Scroll down to nominate your Ocean Hero!
Ocean Hero Awards 2019 – Categories*
Clean Coasts Group of Year– This award recognises the Clean Coasts group who have made the most significant contribution to our coastline during 2019.
Clean Coasts Volunteer of the Year –This award acknowledges those individuals who initiate change and inspire others to do more to protect and conserve their coastline.
Clean Coasts Youth Volunteer of the Year – This award honours our younger Clean Coasts volunteers. We would love to hear about individual youths, families, school groups, youth clubs and scout groups etc., who have gone above and beyond to clean our shorelines and raise awareness about the issues facing it.
Clean Coasts Beach Clean of the Year – Have you been involved in or heard about a coastal clean-up that really stood out! We are looking for submissions that have made a significant impact to the coastal the environment and brought communities together with a shared purpose of caring for the marine environment.
Clean Coasts Fishing Community of the Year (supported by Bord Iscaigh na Mhara). – This award recognises the effort our seafaring community are currently undertaking to reduce marine litter in their everyday work life.
Clean Coasts Business of the Year – We are looking for nominations outlining what our business community are currently doing to create a healthier coastal environment. (excludes organisations who have taken part in our Corporate Volunteering programme)
Think Before You Flush Community of the Year (supported by Irish Water) – This award acknowledges one of the 15 communities chosen to take part in the Think Before You Flush Communities initiative for 2019.
*all nominees should be registered with Clean Coasts programme for at least the past 6 months.
Closing date 11th November 2019 at 5 pm.
Ocean Hero Awards 2018 – Winners
Clean Coasts Group of the Year 2018 – Keep Our Beaches Clean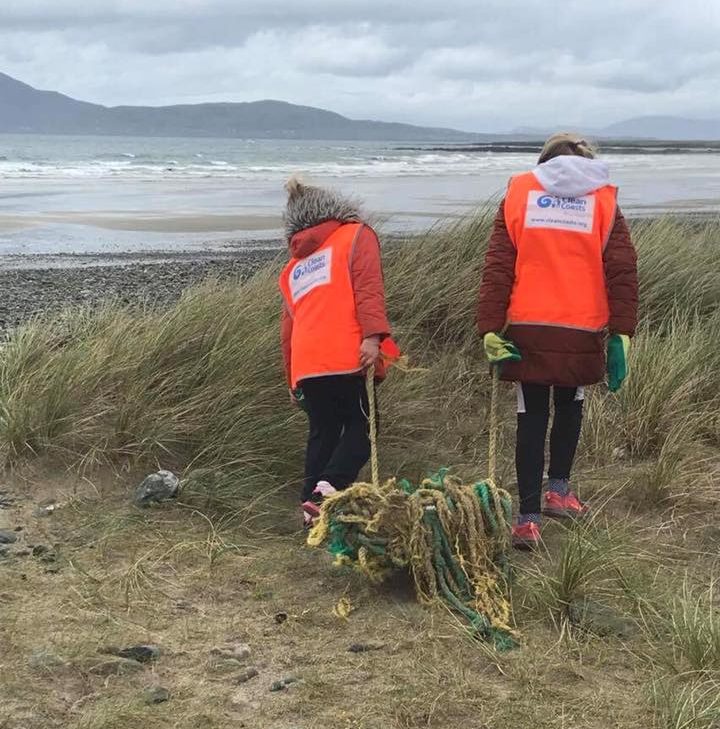 A very new group to the Clean Coasts programme, Keep Our Beaches Clean registered as Clean Coasts group in the summer of 2018. However, in that time the group have been extremely hard-working in their efforts to keep the Coastline of SW Mayo clean. They have collected over 2.5 tonnes of rubbish and gathered 1055 followers on Facebook. Over half of their social media followers to date have either participated in a clean-up with the group or on their own. The group had volunteers on SW Mayo beaches every day from July 1st until the end of the season.
Most of the plastic and ropes they have collected since they were established is currently in storage and is to be used for an art project. All items of clothing collected during the beach cleans have been washed and sent to charity shops. Toys were also washed and collected in a box for the public to use on beaches over the summer, following this they were sent on to local play-schools. The group have also run workshops to raise awareness on waste and recycling.
They are an amazing group who have not only made a huge difference to the beaches of Westport and Louisburgh areas of Mayo, they have also helped to change behaviour of those visiting the beaches through their environmental message.
Clean Coasts Individual of the Year 2018 – Seán Ferguson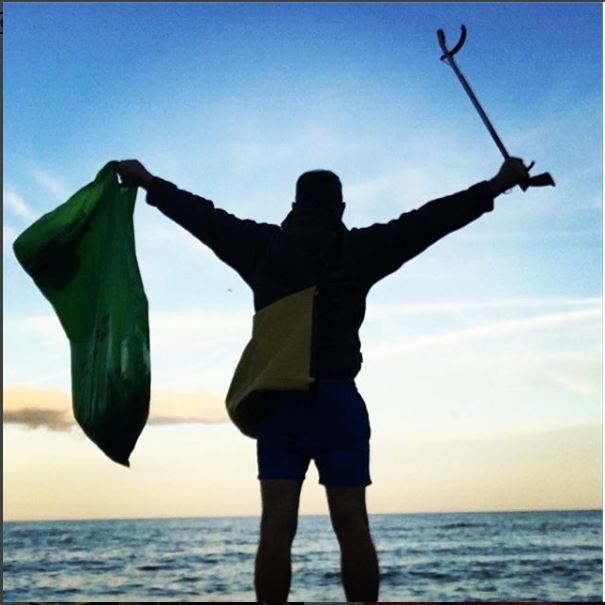 Seán can be seen cleaning beaches along the Wexford coast every morning all year round. He combines his beach cleaning with daily swims and walking his dog early before he starts work. This year he took part in the Big Beach Clean in September and covered 7 beaches in total including Ballymoney North and South, Cahore, Seafield, Tara Cove, Kiltennel and Saleen.
Seán often takes the bags of rubbish he collects to his front garden to sort and make sure that as much as possible gets recycled. He also collects all the beach toys he finds, washes them and distributes them to charities and local creches in Gorey. Seán is a big supporter of our #2minutebeachclean campaign and his Instagram captures his daily finds along the Wexford coast and inspires others to get in on the beach cleaning action.
Clean Coasts School of the Year 2018 – St. Colman's Community College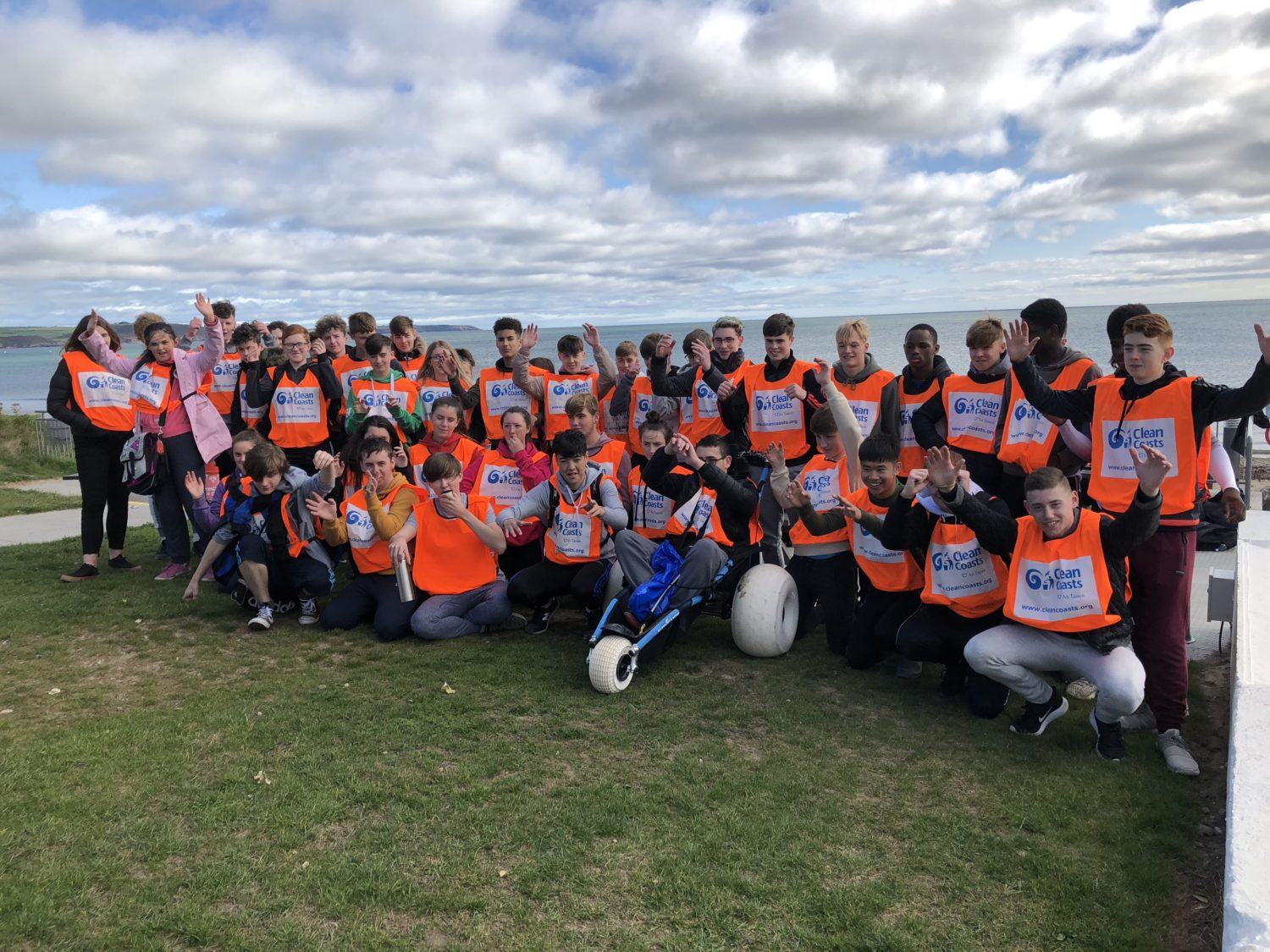 St. Colman's Community College has been a recipient of the Ocean Hero School of the Year Award in previous years and their dedication to the coast continues to grow and inspire others. The current beaches under their care are: Ballynamona West, Ballynamona East, Ardnahinch, Garryvoe, Silverstrand, Ballinwilling, Ballycroneen, Ballybranagan, Pilmore, Redbarn, Claycastle and The Front Strand in Youghal.
They are also working and engaging with other local schools – mentoring Coláiste an Chroí Naofa, Carraig na bhFear, and brought 80 of their students and teachers out beach cleaning with them raising further awareness. They are continuing to mentor other schools and spread the message.
They are constantly promoting coastal care. Recently their "Love your Beach" message made the front page of the Examiner and other publications – Evening Echo, East Cork Journal & Marine Times. They have supported the town of Midleton to help tackle litter and prevent it from entering the rivers in the town. 75 TY students took part in this and approximately 25 black bags of litter were removed from the town each day they went out; as we all know, 80% of marine litter starts on land. Their support of the Think Before You Flush campaign is ongoing – both in the school and in the surrounding area.
A special mention has to be given to their teacher Prionsias Ó Tuama who has led this school tirelessly in their efforts to tackle marine pollution.
Clean Coasts Business of the Year 2018 – Dive Academy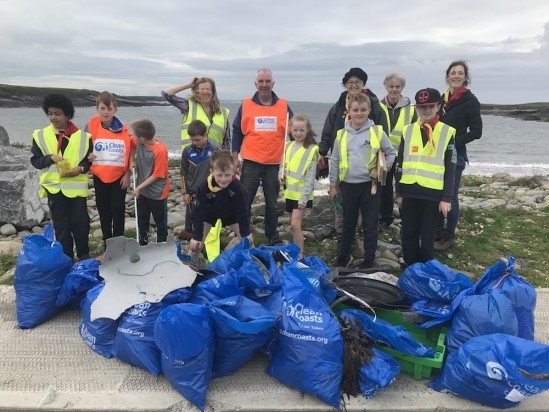 Dive Academy organised 2 successful beach clean events: 101 dive site on 2nd June as part of Coca-Cola Clean Coasts Week events and White Strand beach on 15th September as part of the Big Beach Clean. The business collected around 200kg of debris during these events.
The group filled over 20 sacks (140kg) of refuse during the Big Beach Clean, along with several large objects (a metal fence-post, a tangled mass of rope, a car battery, plastic panels and sheets). The group took these objects to the local council facility for processing. The volunteers were invited back to the Dive Academy for tea and coffee, in reusable mugs, and biscuits. The Dive Academy then showed short videos from Clean Coasts and Project Aware on the problems of plastic and how to address these problems. The Dive Academy also gave free dives to two young volunteers in their pool.
The business holds "Dive Against Debris" dives (an initiative from Project Aware) where they collect any underwater debris from some of their favourite dive sites in the Atlantic. The business now includes information on underwater debris collection during their dive briefings and they encourage divers to collect underwater debris and return it to their dive centre for disposal.
Clean Coasts Beach Clean of the Year 2018 – 'Havin' a Laugh' Eco Adventure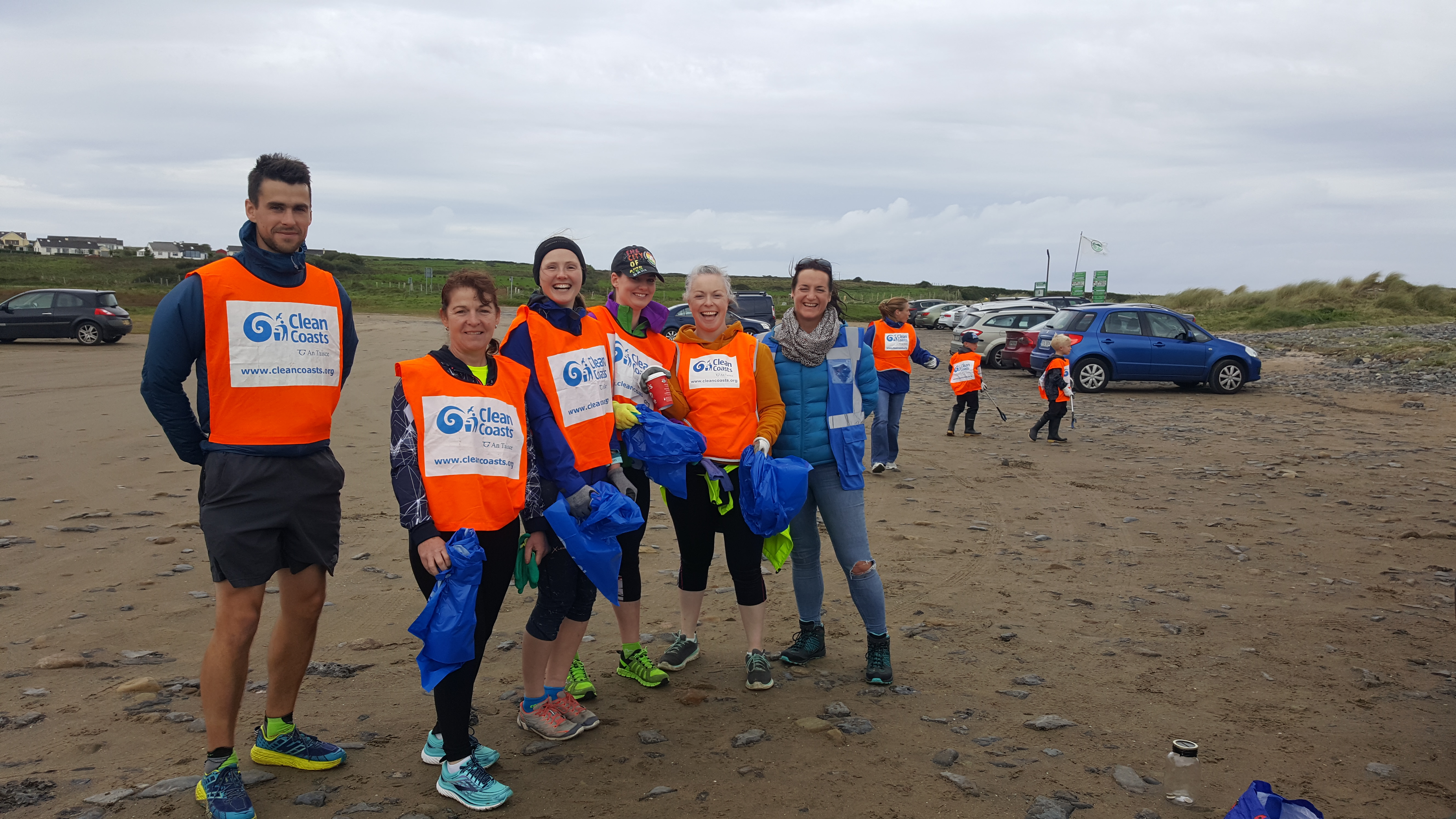 On Sunday 16th September, 'Havin' a Laugh' a mental health charity based in Sligo, ran 3 eco-adventure events in North Sligo.
Dernish Island – Kayaking
Trawluath beach – Horse Riding
Streedagh beach – Trail running
'Havin' a Laugh' charity was established to promote positive mental health through life-enhancing activities. They are dedicated to the promotion of life-enhancing activities as essential tools for personal emotional stability and positive mental health. They have been registered as Clean Coasts group since 2014 and in that time have taken hosted numerous eco-adventures, yoga on the beach activities during clean coasts week.
The idea of the adventure was to clean hard to reach stretches of coastline during Clean Coasts' Big Beach Clean Weekend.
11am: A kayak from Milk harbour north of Grange out to Dernish Island and back to mainland was organised. 10 volunteers took part and collected 20 bags of rubbish on the island.
3pm: 10-15 volunteers met on Streedagh Beach and went trail running while picking up litter also known as plogging, cleaning 13km of coastline.
3.30pm: A team of 7 met at Island View Riding stables(also a Clean Coasts group) and went on horseback to Trawluath beach and cleared a stretch of hard to reach coastline.
The most common litter items found were, fishing debris and plastic bottles, lobster pots, ropes, plastic containers, and 20-gallon drums.
The event was organised by the Havin' A Laugh charity and the following activity providers donated their time: Northwest Adventure Tours (Trailrunning), Fitness4All (Trailrunning), Sligo Kayak Tours (kayaking), Island View Riding stables (Horseriding) and Seastainability.
Clean Coasts Think Before You Flush Award 2018 – Galway Atlantaquaria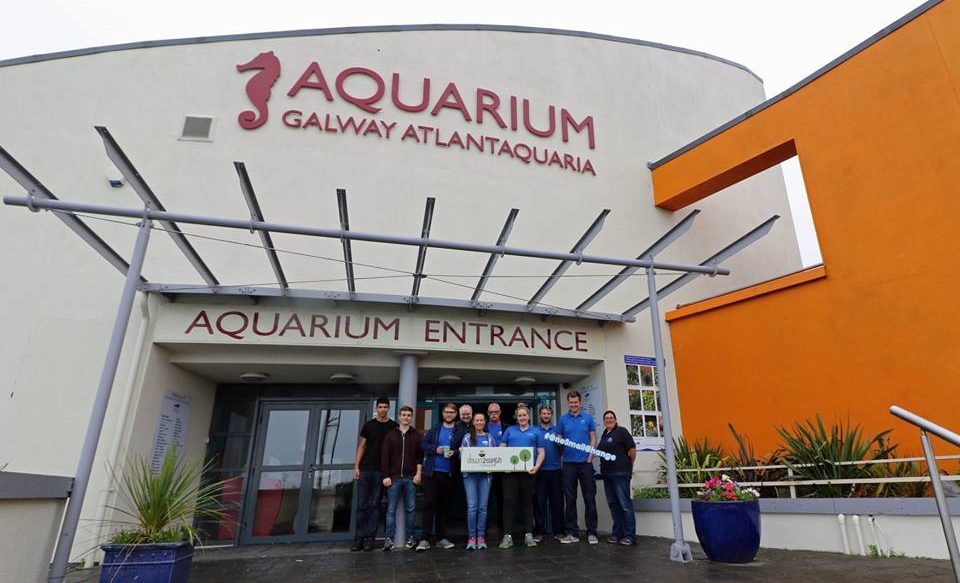 World Water Day, on 22 March every year, is about focusing attention on the importance of water. The theme for World Water Day 2018 is 'Nature for Water' – exploring nature-based solutions to the water challenges we face in the 21st century. For World Water Day Galway Atlantaquaria, a long-time supporter of the Think Before You Flush campaign made a video highlighting the importance of why you must Think Before You Flush.