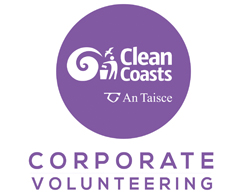 Clean Coasts Corporate Volunteering Program
The Clean Coasts Corporate Volunteering programme is a great opportunity for your company to make a tangible and immediate improvement to the coastal environment. It is also a fantastic team building and personal development opportunity for employees outside of the normal working environment. The day will involve a beach, river or canal clean depending on what suits your group. We will also provide a safety talk at the start of the day and then break up the clean up with educational talks and team building games.
The Benefits:
Make a practical and positive impact on the coastal environment & waterways
Learn about Ireland's extensive coastline and freshwater systems
Understand the effect that marine litter has on our environment
Getting involved in the local community
Survey biodiversity and assist with citizen science projects
Help to restore fragile dune systems
Have a fun team building day while contributing to a worthwhile coastal conservation initiative
How does it work?
The logistics of the CSR action day will be organised by Clean Coasts, which include liaising about a specific location, timing, providing a briefing document, arranging for rubbish collection point, providing all equipment needed and leading the group in all activities on the day. The valuable action day will be promoted through all our social media platforms and through the 650+ network of community Clean Coast groups in the country. Action days can be organised throughout the coastline of Ireland and we can facilitate both half day (3 hours) and full day sessions (5 hours).
For our corporate volunteering days we ask for a donation depending on the group. We can facilitate small group of less than 10 people to large groups of up to 300. The donations from CSRs are put into a budget that will facilitate grants for our Clean Coasts groups.
As a charitable organisation we ask for a donation to cover the cost of facilitation of the beach clean with the majority going towards our Clean Coasts grants scheme. For a 3-hour session, we ask for a donation of €500 and for a 5-hour session its €750.
We are able to facilitate all size of groups from as small as 5 up to 200 volunteers. To ensure appropriate engagement and management we stick to the ratio of one facilitator to approximately 30 volunteers. With larger groups the donation we ask for would increase to cover costs.
The corporate volunteering days are available to book Monday to Friday starting at 10am or 1pm (these times are flexible) and they are ran throughout the duration of the year. We book up very quickly during the warmer months so we advise booking with as much advance notice as possible.
Please register your interest for a Corporate Volunteering day by emailing Áine Purcell-Milton at cleancoasts@eeu.antaisce.org