Registrations for the Big Beach Clean are now open!
With the end of the bathing season, our Big Beach Clean initiative is returning too and this year it will be running between Friday 20th to Sunday 22nd of September on hundreds of beaches around Ireland.
During the Big Beach Clean, Clean Coasts volunteers are asked to carry out marine litter surveys to quantify the amount and types of litter on Irish beaches. These surveys are aimed at heightening awareness about the issue of marine litter and serve as an indicator of the magnitude of the problem.
Last year over 190 beach cleans took place last year as part of our Big Beach Clean, engaging 3,652 volunteers who removed over 32 tonnes of marine litter from our coastline, thanks to our incredible volunteers who made an amazing effort over this week. This year, building on last year's success, we want to make the Big Beach Clean 2019 the biggest yet!
Register below to receive your FREE beach clean kit.
Cully and Sully and National Spring Clean Join the Big Beach Clean
This year for the Big Beach Clean, we have joined forces with Cully and Sully and An Taisce National Spring Clean.
Cully and Sully supported us in providing our volunteers with the Big Beach Clean kits and are hosting a flagship clean-up on Friday, 20th September at Garryvoe Beach, co. Cork, at 12pm. Volunteers will also be rewarded with a spoon of the Cully and Sully soup.
Cully and Sully commented: " We really wanted to get involved to help spread the word about this terrific Clean Coasts event. We hope the Big Beach Clean 2019 will get more signs ups, more volunteers and at the end of the day, more marine litter out of our shores and sea. Last year volunteers gathered the equivalent weight of over 6 african elephants. That is such a direct action on marine litter!"
National Spring Clean added: "We are delighted to be involved in with the Big Beach Clean this year. We are asking our volunteers to help prevent litter entering our waterways and seas by holding a clean up no matter where they are in the country and tackling the problem at source."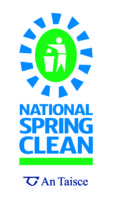 Join the Social Media Conversation
Want to help us spread the world about the Big Beach Clean? Then join the conversation on our social media. Share you pictures using the hashtags #BigBeachClean2019 and #CleanCoasts and tag us:
On Instagram: @CleanCoasts
On Twitter: @CleanCoasts
On Facebook: @CleanCoasts
We'll keep sharing all your best shots and stories to inspire other people to do something to protect our beautiful coastline!