Clean Coasts Warrior – Eoin Morton
Pro Cyclist and SUP Surfer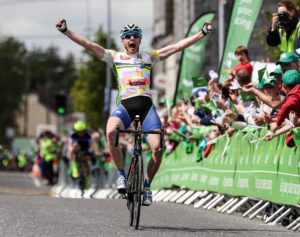 What does the ocean mean to you?
Being a former professional cyclist, the ocean and sea was foreign me to until recent years. Since I have stopped racing bikes, I now fill my time with surfing and Stand Up Paddleboarding. The water is a tonic, it is an escape from the day to day stress, it is the best playground on offer. I love to walk my paddleboard down to the beach after work or at the weekend, jump in and make the most of the what our little island has to offer. Whether I'm surfing the waves in winter or cruising the on mirror like water of the summer, I love the ocean.
Was there as instance/memory that first got you engaged with the issue of marine litter/litter/ocean health?
Having worked in the environmental sector for 7 years, ocean plastics have always been the forefront of my mind. While working on the Neat Streets programme in An Taisce, I loved educating second level students that 80% of ocean plastic originate from land based activities and that it is something everyone has a part to play in tackling.
I currently work for Irish Water and I am very proud that we are delivering projects around Ireland which will stop the discharge of untreated wastewater into our seas and oceans by 2021. I think this investment in improving water quality and is a major step in improving the health of our oceans.
Your top advise to those who would like to join us to improving our ocean.
Getting involved in #2mintuebeachclean is the easiest, most accessible and fun way of improving our ocean. This quick and simple clean up allows people to dip their toe in and get a hands on experience of the impacts of ocean plastics.
A couple of weeks ago I found a Quinnsworth plastic bag while out surfing, Quinnsworth closed over 20 years ago, these real examples will over time aid people to make the behaviour changes required to make a difference.
Why did you get involved with the Clean Coasts programme?
The Clean Coasts Programme is cool, plain and simple. It allows the people, the masses, to engage with an environmental action. It provide a forum for people to post their action to social media, creating a conservation and building their knowledge of the issues and how we all have a part to play.