Clean Coasts Warrior – Rachael Lee
Swimmer and Firefighter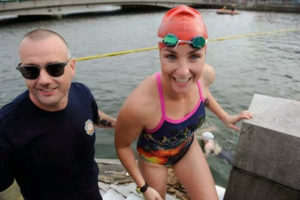 The Ocean and it's waters cannot be taking for granted.
I fear that my children and their children will one day soon be unable to swim in the sea around us.
I love swimming but especially in the sea.
I am so fortunate that I can walk down to my local beach and go for a swim…to keep fit..to train..to clear my head..to socialise and most importantly to spend time with my boys and husband.Teaching our children about the wonders of nature and sea life hidden around us..building sandcastles, walking on the sand while telling stories about the big blue.
Unless we start taking action now, this will be gone.
2 years ago while I was training to swim the English Channel I was spending more time than ever in the sea. I couldn't believe the amount of plastic and rubbish that I was swimming into, that was floating around me and being washed up to shore.
I was really shocked and angry that this was happening yet I was apart of the problem. What was I doing to change this situation???
So I have taken a few small steps and stick to them as best as I can:
No more takeaway coffees unless it's in my keep cup!!
No more plastic bottles of water. I carry my stainless steel bottle everywhere. My twins and husband also do the same!!
NO STRAWS!!!!
Recycle as much as possible!!
Monthly beach clean ups…we get down To our local beach and just clean up what we can.
Every time we go to the beach we pick up a min of 3 pieces of rubbish each.
All this is not much..but if everyone did it…well I don't think I would be swimming into as many plastic bottles and cups as much as I have been.