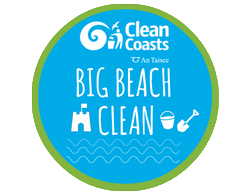 Clean Coasts Big Beach Clean weekend will take place on the 15th, 16th and 17th of September 2017. We are delighted to team up with the International Ocean Conservancy again for the International Coastal Cleanup event. In 2016, nearly 800,000 volunteers in over 90 countries removed 8,193 tonnes of marine litter from the world's oceans.
We hope everyone will join the movement for litter free seas and be part of the world's largest coastal cleanup event and marine litter survey. The event takes place every year on the 3rd weekend in September.
Register Your Beach Clean
Help a coastline you love by taking part in Clean Coasts Big Beach Clean. You will be helping to protect our beaches, seas and marine life locally, nationally and internationally. Free clean-up kits are available which include gloves, bags, data collection cards, posters and high-vis vests are available while stocks last. Sign up online below or you can give us a call on 01 4002210.
Clean-up Kits
Free clean-up kits will be sent to all who register for the Big Beach Clean while stocks last!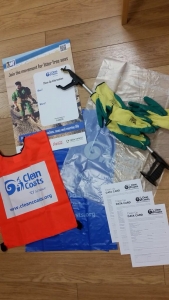 Resources
Some resources you will need for your clean-up can be found below:
Find a Clean-up!
All clean-ups registered for Clean Coasts Big Beach Clean will appear on the map below. Register yours now!
Submit Your Marine Litter Survey Here!
An important part of the Big Beach Clean is to gather data on the types of litter currently being found on the Irish coast. This data feeds into international information put together by the Ocean Conservancy to understand more about marine litter on a global scale. You can send your datacards to us by post or fill in the form below.