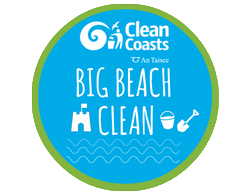 Clean Coasts Big Beach Clean weekend took place on the 16th, 17th and 18th of September 2016. We were delighted to team up with the International Ocean Conservancy again for the International Coastal Cleanup event. In 2015, nearly 800,000 volunteers in 94 countries removed 8,164 tonnes of marine litter from the world's oceans.
We hope everyone enjoyed joining the movement for litter free seas and being part of the world's largest coastal cleanup event and marine litter survey. The event will take place again next year on the 3rd weekend in September.
In the meantime check out the location of over 140 clean-ups that took place in 2016 and if you haven't sent your survey data yet, you can do so electronically below!
2016 Clean-ups!
Here are the Clean Coasts Big Beach Cleans that took place in 2016.
Clean Coasts Big Beach Clean Survey
You can fill the data collected on your Big Beach Clean here!