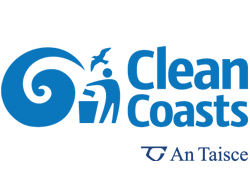 Clean Coasts Grant Scheme
Open to all Clean Coasts Groups
Deadline: 28th February 2019
The Clean Coasts grant 2019 was funded by donations from our corporate volunteering days with businesses all around Ireland. This grant scheme would not have been possible without their kind donations. Please find more information about our corporate volunteering days here.
There are many reasons why a Clean Coasts group might require financial support for projects/activities. A Clean Coasts grant may help get a project started; support a project which is already underway; or may help where finance is a concern.
Please read carefully the Clean Coasts Grant Scheme's terms and conditions.
What grants are available?
Clean Coasts groups can apply for grants up to €500. We also have a number of beach cleaning kits or adopted beach signs to give to suitable groups. Please indicate in your application which option or options you are applying for.
What can you spend your Clean Coasts Grant on?
It is important to establish that only a limited Clean Coasts grant may be available, and may be just a contribution towards financial requirements.
Applying for a Grant:
Feel free to discuss with your Clean Coasts Coastal Programme Officer about your Clean Coast grant application.
Ensure to get quotes for identifies items and include in application.
Complete an application form and make sure you submit written quotations for what the grant will be used on.
Fill in the form online or download an application form and send with quotes to Clean Coasts, An Taisce by 28th February 2019. Send by post to: Clean Coasts Grants, Clean Coasts, An Taisce, 5a Swifts Alley, Francis St, Dublin 8; or email to: cleancoasts@eeu.antaisce.org.